HOW TO DECORATE YOUR BIRTHDAY?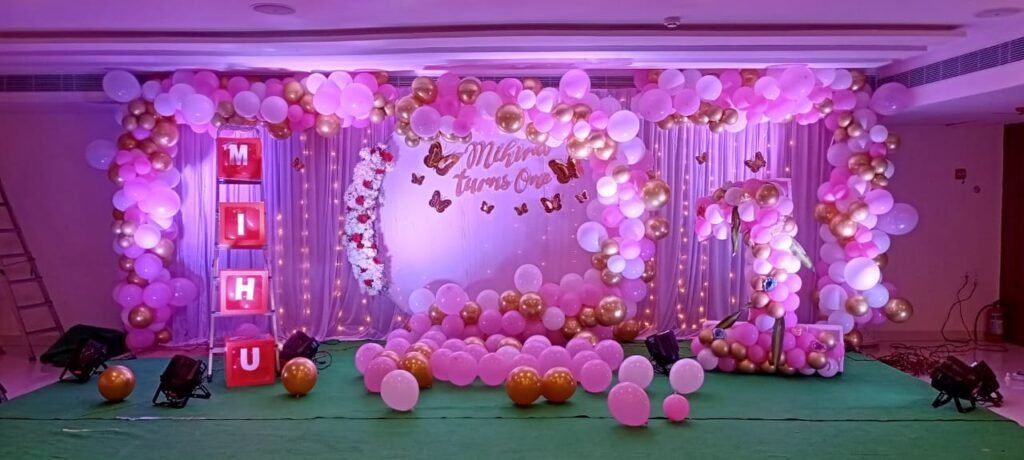 Decorating for your birthday is a fun and creative way to set the mood for your celebration. Here are some ideas to help you decorate for your birthday:
•Choose a Theme: A theme helps create a cohesive and memorable atmosphere for your birthday party. It could be based on your interests, favorite colors, or even a specific era or concept. Once you've chosen a theme, you can use it as a guide for all your decorations and party planning. Chose a variety range of theme from zyozi. Link:- Birthday Themes 
•Color Scheme: Your color scheme sets the tone for the entire party. For example, if you're having a beach-themed party, you might go with a combination of blue and sandy beige. Make sure your decorations, from balloons to tableware, match the chosen colors.
•Balloons: Balloons are versatile decorations. You can use them to create balloon bouquets or arches, and they can be customized with messages or images. Helium balloons can float, making them ideal for creating eye-catching displays.
•Banners and Signs: A "Happy Birthday" banner is a classic decoration that you can hang prominently. Personalized banners with your name and age can add a unique touch. Signs with fun messages can be placed throughout the party space to add to the festive atmosphere.
•Table Decor: Your party table is a central focus, so make it special. A colorful tablecloth or table runner can set the stage. Use themed plates, cups, and utensils to tie into your theme. Centerpieces, like fresh flowers in vases, candles, or themed decorations, can make your table pop.
•Streamers and Garlands: Streamers, garlands, and bunting are great for adding movement and visual interest. You can hang them from walls, ceilings, or even outdoor spaces to create a vibrant party atmosphere.
•Photo Booth: Create a dedicated photo booth area with a backdrop that complements your theme. Provide props like funny hats, glasses, and boas to encourage guests to take memorable photos. Chose a variety range of photobooth from zyozi. link:- Photobooth Link
•Lights: String lights or fairy lights add a magical ambiance to your party, especially in the evening. You can drape them around trees, hang them from the ceiling, or use them as table centerpieces.
•Confetti and Table Scatter: Scatter colorful confetti or themed table scatter on the party tables for an extra pop of color and sparkle.
•Cake and Dessert Display: Showcase your birthday cake on a decorated cake stand or table. Create an enticing dessert table with cupcakes, cookies, and other sweet treats displayed in an appealing way.
•Personal Touches: Incorporate personal touches that reflect your life and personality. This could include framed photos of memorable moments or a timeline of your achievements and milestones.
•Music and Entertainment: Music sets the mood for your party. Create a playlist that suits your taste and the atmosphere you want to create. If budget allows, consider live entertainment or a DJ to keep the energy up.
•Party Favors: Party favors are a way to show appreciation to your guests. They could be small, themed items like keychains, mini photo frames, or personalized trinkets that remind them of your celebration.
•Outdoor Decor: If you're hosting your birthday party outdoors, you can still decorate to create a festive atmosphere. Use natural elements like flowers, plants, and outdoor lighting to enhance the outdoor space.
•Remember to plan your decorations well in advance, and don't be afraid to get creative. The more personal and thoughtful your decorations, the more memorable your birthday celebration will be for you and your guests.